Getting involved with programs you are passionate about connects you to the information and people that will enhance the value of your Chamber membership. The Tullahoma Chamber offers current members a range of opportunities to share their expertise and enthusiasm with the community. Build your business relationships as we work together to help our community and members prosper.
Ambassadors
The Tullahoma Area Chamber Ambassors is comprised of motivated business leaders who serve as the backbone of the Chamber and are the "social arm" for members by:
Greeting members & Meeting new members at Coffees
Welcoming new businesses to the community
Recruiting new members & membership retention
Assisting with Chamber events & much more...
After Hours & Coffees
Business After Hours are hosted throughout the year at various locations and attracts as many as 300 business professionals. The Tullahoma Chamber partners with the Manchester Chamber and other regional Chambers to host BAH giving members a great opportunity to market their business and build relationships with the surrounding communities. 
Chamber Coffees are held on the 4th Tuesday of every month at the sponsor's business location. A Coffee is the perfect monthly networking event for members and an opportunity to bring potential members as a guest to showcase the value in Chamber membership. 
Business Development
The Tullahoma Chamber offers a series of opportunities of growth and learning including seminars, training, and workshops to enhance the success of the members. The Chamber is constantly researching the latest business strategies and trends to offer the best educational workshop. We always welcome new ideas and ways we can assist in our member's business development and success. 
Creating Educational Opportunities
Creating Educational Opportunities (C.E.O.) is a voluntary partnership-in-education program between local businesses and Tullahoma City Schools, for the support and enrichment of the educational process. The mission of C.E.O. is to foster a concern for and enrich education, and to create a better educated work force.
Celebration Banquet
The Annual Membership Celebration is held every January to recognize the accomplishments of our Chamber members throughout the year. The event gives us the opportunity to show our appreciation for our members, introduce the new Chamber President, reflect on the past year, and express our goals for the future. The night consists of an elegant dinner, silent and live auction, and awards ceremony.
Christmas Parade
The Tullahoma Christmas Parade is a 60 year holiday tradition that showcases more than 100 entries including the Grand Marshal, local dignitaries, businesses, marching bands, sport groups, civic organizations, and much more and, of course, Santa Claus!
The success of the parade depends on sponsorships, generous contributions, donations, participants, & volunteers. Your entry fee is appreciated and thank you for participating this year! TACC is a not for profit organization and funds collected go towards expenses for the parade.
Coffee County Young Professionals
The Tullahoma Chamber's young professional program that provides a platform for our next generation of leaders to build strong connections, develop leadership skills and partner with business and community leaders. 
The Tullahoma Chamber provides events for CCYP throughout the year to help them become more competitive in the business arena, and establish contacts through a variety of program topics, such as:
Latest community news and business strategies
Seminars featuring topics essential to your professional development
Partnership with a Mentor, an established, local business professional 
Grow relationships with business professionals and community leaders
Events
The Tullahoma Chamber is always thinking and creating different events for members and the community. Whether it's a Business Expo, networking event, awards ceremony, we want to create new and exciting events for our members as well as continue to improve our existing events. We want to hear your ideas!
Golf Tournament
We take pride in the success of our golf tournaments and create opportunities to make the Chamber Classic Golf Tournament different from any other. If you're a "golfer" or have experience planning tournaments, we would love to hear your golf creativity!
Government Relations / Military Affairs
The Government Relations committee monitors legislative and policy issues at the local, state and federal levels and discusses the impact of these issues on business and economic development in our community.
Marketing Magazine
The Annual Think Tullahoma magazine is THE source for anyone considering moving to Tullahoma, Tennessee. It's the official marketing guide for Tullahoma and Chamber members that contains information about Business, Real Estate, Education, Lifestyle, Retail, Relocating and so much more!
The Magazine Committee is responsible for the designing, updating, and overseeing of the production of the annual Chamber publication.
Membership Services
The Tullahoma Chamber continues to seek new benefits for our member investors. Our duty is to help our members by offering services to fully benefit their membership value and investment. The Membership Services & Benefits committee review ideas and search for new ways to implement benefits.
Membership Recruitment & Retention
This committee reviews and recommends strategies, procedures, and best practices for the recruitment and retention of Chamber members. Our goal is to facilitate business between members and proactively add value to every member's association with the Chamber.
Retail
A joint effort between TACC, the City of Tullahoma, and members of the Retail business to develop marketing tools, resources, campaigns, and events to assist our local retail businesses and promote the importance of shopping local.
Ribbon Cuttings
Encourage and remind members of the exposure and importance of Ribbon Cutting ceremonies. Assist Chamber staff in attending scheduled ribbon cuttings and ensure proper media coverage.
Social Media & Website
This committee serves as the communications, advertising, and marketing for the Chamber. Social Media strategies and trends are always changing and the Chamber works hard to promote its organization and the members.
TACC's website is a great tool and resource to learn more about membership, businesses, events, and the community. The Tullahoma Chamber works hard to keep the website updated with the latest news and events to best benefit our members and visitors. Follow @tullahomatnchamber on Facebook, Twitter, Instagram, & Google Plus to stay up to date on the latest news and events!
Tourism
Develop awareness in various Chamber and community events to help advertise, grow, and promote Tullahoma and Coffee County as the best place to live, work, and visit. 
Women Impacting the Community
Assist Chamber staff in the coordinating and planning of the annual Women Impacting the Community Awards Luncheon event.  
Stay Connected
Stay up to date on all Chamber news and events by joining our mailing list! Just click the link below or send a text message to sign-up!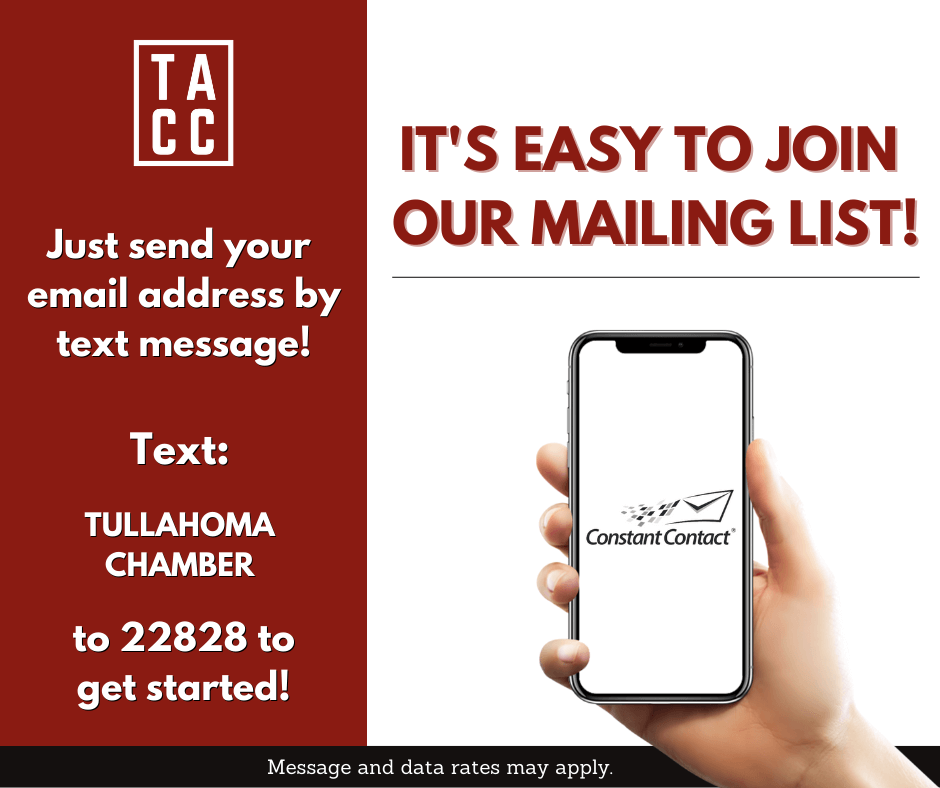 Member Monday
Features events, news, promotions, and advertising submitted from Chamber members as a Chamber benefit - distributed directly to the inbox of over 600 members and non-members. Members can submit one flyer per month for Member Monday. Please read the Mass Email Guidelines before submitting your flyer to tullahomachamber@tullahoma.org.

Chamber Chat
Features the latest Chamber news, new members, upcoming events, ribbon cuttings, small business strategies, and social media shoutouts - distributed to the inbox of all members and non-members every Friday afternoon.

The Business Link
A monthly Chamber publication insert in The Tullahoma News - over 10,000 copies distributed in the Sunday paper before the Chamber Coffee the following Tuesday. The Business Link features an article about the Coffee host, upcoming Chamber events, new members, Ambassador of the Month, message from the Chamber president, and cost-saving member benefits. Advertising space is available for members only. Please contact the Tullahoma News at (931) 455-4545 for ad rates.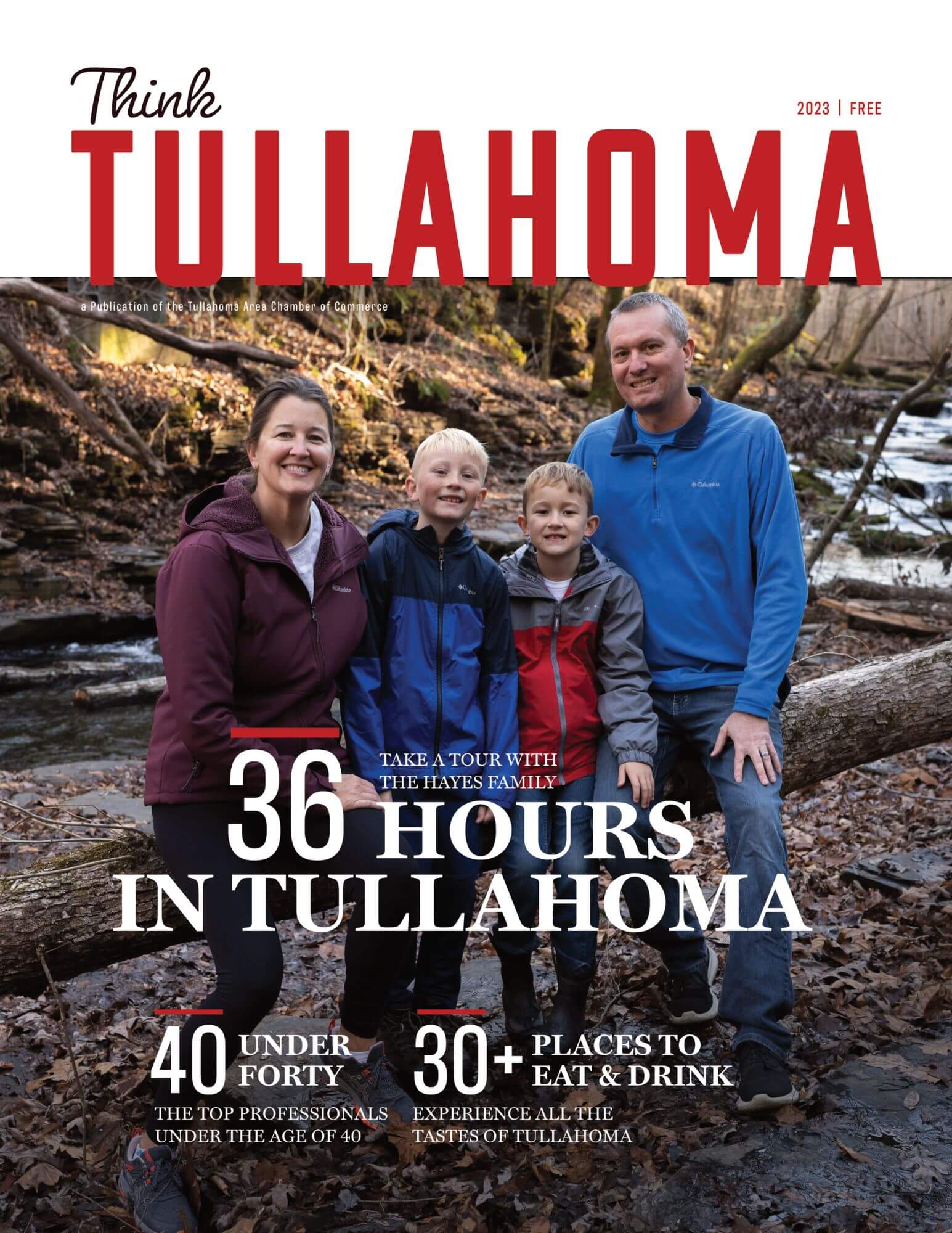 This unique 100-plus page Tullahoma marketing magazine is THE source for anyone considering moving to Tullahoma, Tennessee. It's the official marketing guide for the Tullahoma community and Chamber members that is produced annually by the Tullahoma Area Chamber of Commerce. It contains information about Business, Real Estate, Education, Lifestyle, Retail, Relocating and so much more! View the online flipbook or pick up a copy at the Chamber.
Social Media: follow us @tullahomatnchamber
Use #TullahomaTNchamber when posting on social media so we can always be up-to-date on your business news! You may even get a like, retweet or repost!
Frequently Asked Questions
Here are some commonly-asked questions about the Tullahoma Area Chamber of Commerce: