Tullahoma is a diverse, well-educated cosmopolitan community with small town values. Located in the heart of southern middle Tennessee, we are centered approximately 65 miles from three major metropolitan cities, Nashville, and Chattanooga in Tennessee, and Huntsville, Alabama. Tullahoma is the hub in southern, middle Tennessee for aviation, medical, retail and entertainment.
Over 150,000 area citizens look to Tullahoma for services not available in their communities. Tullahoma is fortunate to offer fiber-to-the-premise internet, phone, and cable services to every home and business through the Tullahoma Utilities Board. As the center for information and community development, Tullahoma has earned a slot in the  top five "Micropolitan" communities in the state of Tennessee.


Tullahoma City Schools are one of the highest performing districts in the state of Tennessee. Tullahoma offers four Elementary schools, two middle schools, and one high school. Tullahoma City Schools have a tradition of high academic standards and a focus on individual student success. This school district is known across the state, and the country for outstanding academic, co-curricular and extra-curricular programs.
After high school, Tullahoma offers the opportunity for you to continue education at Motlow State Community College.
Tullahoma City Schools
Scott Hargrove, Interim Director of Schools
Administration Office
510 S. Jackson St. Tullahoma, TN 37388 • (931) 454-2600
Tullahoma City Schools Website
Tullahoma High School
Principal, Kathryn Rose
927 N. Jackson St. Tullahoma, TN 37388 • (931) 454-2620
Tullahoma High School Website
East Middle School
Principal, Woody Dillehay
908 Country Club Dr. Tullahoma, TN 37388 • (931) 454-2632
East Middle School Website
West Middle School
Principal, Cindy Herrera
90 Hermitage Dr. Tullahoma, TN 37388 • (931) 454-2605
West Middle School Website
Bel-Aire Elementary School
Principal, April Norris
504 Stone Blvd Tullahoma, TN 37388 • (931) 454-2610
Bel-Aire Elementary School Website
Vanderbilt Tullahoma-Harton Hospital employs approximately 450 physicians, nurses and staff, and is a 135-bed Joint Commission-accredited facility offering a full range of inpatient and outpatient surgical and specialty services including a sleep center, cardiac and physical rehabilitation. The hospital features an accredited Chest Pain Center. In 2017, the hospital celebrated 50 years of service to its community. In its most recent year, the hospital admitted nearly 3,500 patients and performed nearly 4,800 inpatient and outpatient procedures.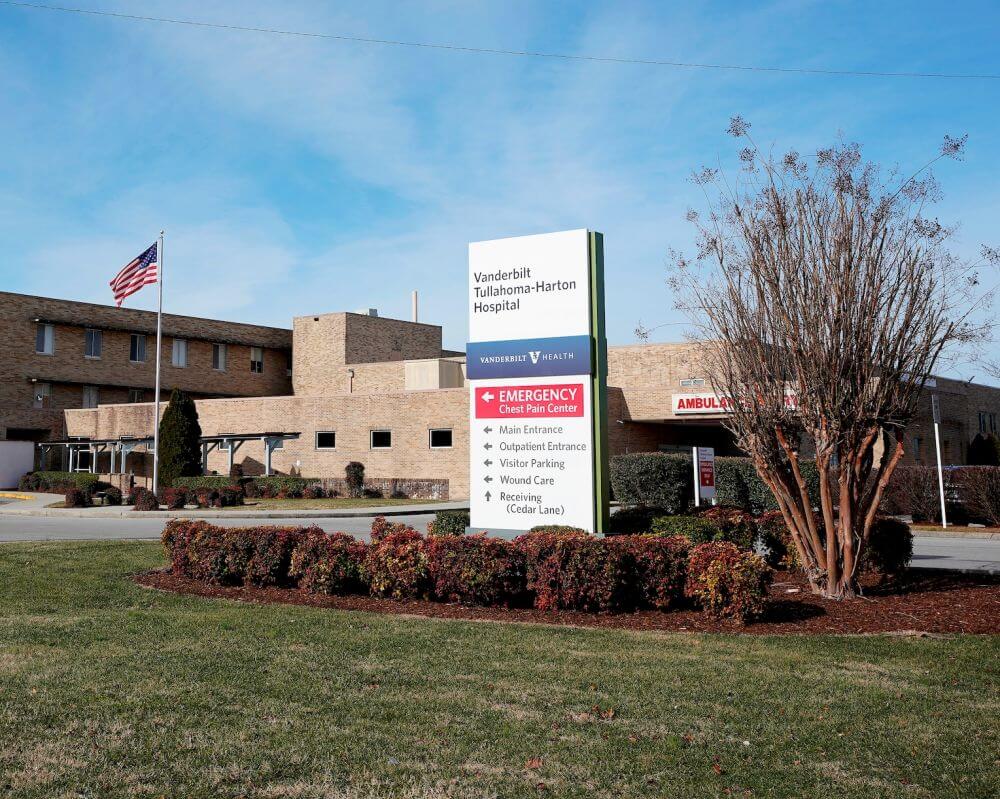 Recreation

The Tullahoma Parks and Recreation Department oversees two community centers. D.W. Wilson Community Center has a gymnasium, indoor swimming pool, a fitness center, and meeting rooms for the community's use. It has a brand new outdoor swimming pool as of June 2015. C.D. Stamps is located on Jackson Street at the site of historical Davidson Academy and has a gymnasium, a game room, two meeting rooms, and a fitness center.
The city has 11 baseball and softball fields, along with two miles of greenways and oversees 605 acres in 12 parks. The latest addition to the parks system is a Rocket Playground, funded in part of the Tullahoma Rotary Clubs. Also, Tullahoma is one of four Tennessee cities to offer a certified Soap Box Derby competition and boasts one National Championship.
For a listing of Chamber members in recreation, click here.
Quality of Life
The quality of life found in Tullahoma is second-to-none. We are a safe community. Tullahoma enjoys a Fine Arts Center, Performing Arts Center, the newly-opened Sunrise Rotary 18-Hole Disc Golf Course, and a state-of-the-art Splash Island Water Park and improved indoor competition swimming pool. We emphasize fitness through "Get Fit! Tullahoma", green initiatives through "Go Green Tullahoma".
The Tullahoma Area Chamber of Commerce works with businesses, industries, community leaders and government agencies to promote the area. We play a key role in advancing the programs and initiatives that make Tullahoma such an attractive and exciting place to receive an education, live, work, and play. All of these components combined justly make Tullahoma Tennessee's Rising Star.
The Tullahoma Area Chamber of Commerce proudly welcomes newcomers to this wonderful community by offering helpful information to make your move to Tullahoma as smooth as possible.
The Think Tullahoma magazine illustrates the unique and interesting aspects of living and doing business in Tullahoma. It also the annual Chamber Membership Directory.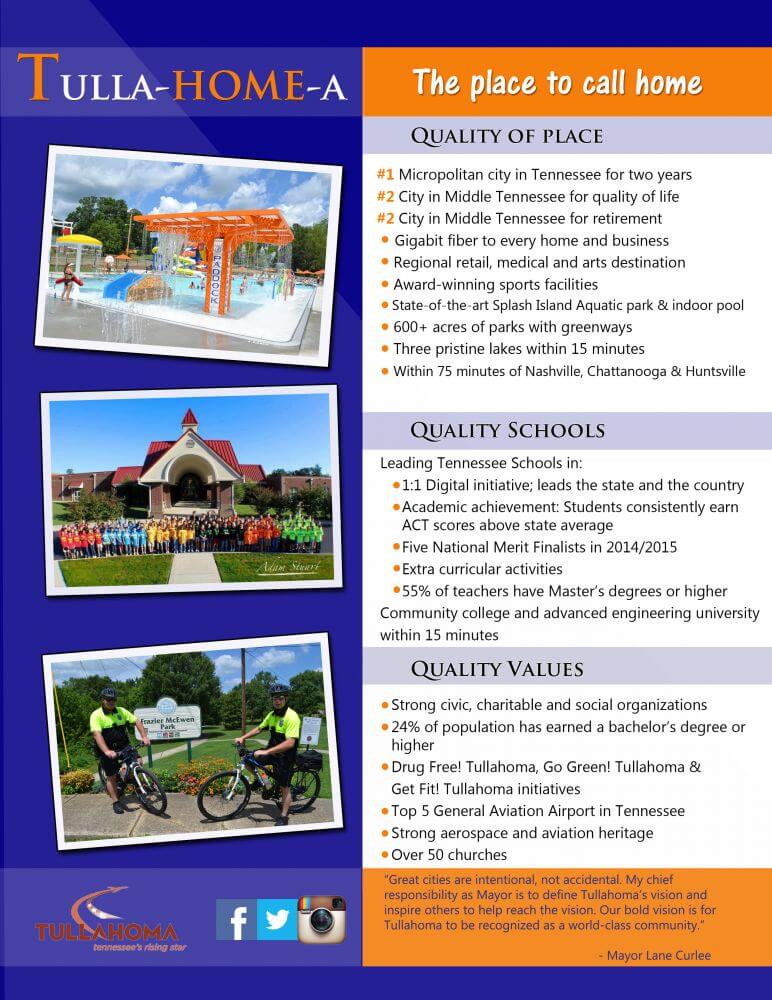 Our relocation packet features the Think Tullahoma magazine, area map, and other vital information about our area.
If you would like to receive a relocation packet by mail, please contact the Tullahoma Area Chamber of Commerce at 931.455.5497 or tullahomachamber@tullahoma.org. (Note: Postage fee applies)
This unique 100 plus page Tullahoma marketing magazine is THE source for anyone considering moving to Tullahoma, Tennessee. It's the official marketing guide for the Tullahoma community and Chamber members that is produced annually by the Tullahoma Area Chamber of Commerce. It contains information about Business, Real Estate, Education, Lifestyle, Retail, Relocating and so much more! View the online flipbook or pick up a copy at the Chamber.